Just in case you didn't already know… IT'S CHRISTMAS IN FIVE DAYS.
I may be 21, but I can assure you, the excitement is still VERY real.
As many of you will know, I'm currently working in M&S – and it's pretty busy right now, to say the very least. I've seen endless people rushing up and down the aisles, frantically consulting executive 'To-Do' lists, which is where the idea for this piece came from…
Therefore, I'd like to propose an alternative Christmas 'To-Do' List:
 1.  Be kind to those who work in retail.
Fun fact: the busiest day of the year for food retail is 23rd December. But the festive furore begins long before this hallowed day (which this year, brilliantly, falls on a Sunday – with even shorter trading hours…) Working in retail at Christmas is challenging. I've never sliced bread so rapidly in all my life. It's fast-paced, intense, and at times – can feel totally overwhelming. So please, to all who will be doing some Christmas shopping over the next few days, bear with us! We're doing our absolute best – a little bit of laughter and patience goes a long way.
2.  Call someone you've not heard from in a while…
Research suggests that just under a million older people feel lonelier at Christmas than any other time of the year (Age UK, 2017). But it's not just those who are elderly, as sadly, loneliness has the potential to affect us all. Worst thing is – it's often incredibly well hidden. So why not touch base with someone you've not heard from in a while? This time of year can be cripplingly isolating for some people.
3.  Embrace the food. Don't feel guilty!
I recently listened to a podcast which – honestly – changed my life. Courtesy of the brilliant Sofie Hagen and Deborah Frances-White ('The Guilty Feminist': Episode 2), I realised that so many of us (particularly women) – do the 'Cake Dance' – prior to ordering/eating food that is 'bad' for us.
E.g. 'I'd like some cake but I don't want a WHOLE piece… will you share with me? No? Oh gosh, right, well I suppose I better just go for it… I've not had any lunch though! Plus I was good yesterday, and I plan on being healthy tomorrow so it'll all balance out… yes I'll have the chocolate cake please.'
Recognise the spiel? I sure do.
Put simply, try to enjoy this particularly food-filled period of our calendar. The food is supposed to be decadent, and plentiful. Embrace it as best you can.
4.  Do something wholesome.
A few colleagues of mine recently put the combination of reduced M&S pet food & a staff discount card – to very good use. The RSPCA received quite a delivery. Similarly, I'm convinced Calgary's entire homeless population has single-handedly been clothed by my avid-knitter of an Aunty. Join them, and do something good this Christmas.
5.  Establish new traditions.
Christmas is all about traditions right? We always play Trivial Pursuit on Christmas Day. Dad always wins. I'll normally mess up a History question, and my parents will proclaim: 'Did you learn ANYTHING at school/university!?' Traditions are great, and so important. But let 2018 be the year you create a new one. Anything from food… to movies… to family activities. You decide.
6.  Focus on what's important.
Don't let Christmas become a competition. Focus on yourself, those you love, and what you have, rather than what you don't. It's easy to compare your experience of the holiday season with others (cc. social media) but try your best to concentrate on yourself, and your happiness. You do you.
7.  Tell (or remind!) your family & friends that you love them.
Because at Christmas, love really is… all around. Name that film.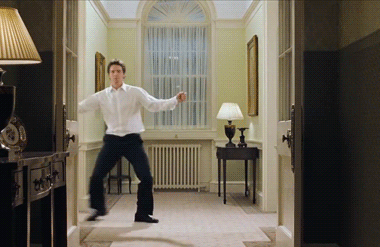 And finally…
8.  Bin the 'To-Do' list (even this one if you like, but just don't tell me)
Because often the most harmonious moments – are the ones we don't orchestrate.
Merry Christmas lovely people, have a good one xo